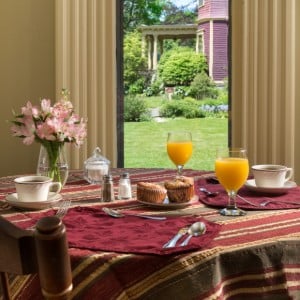 Welcome Home!
We have run the award-winning Berry Manor Inn for over twenty years. We've taken our experience and applied it to every detail of the Rockland Talbot House, a restored 1850 mansion nestled in the historic district of Rockland, Maine. Not only is Rockland the perfect location to explore the coast between Portland and Acadia National Park, but the Rockland Talbot House also provides the perfect location within Rockland. You'll enjoy a beautiful and quiet neighborhood only 2 ½ blocks from downtown.
Live Like a Local
Come settle in and we'll help you live like a local. Walk to restaurants, museums, and stores. Our collection of menus from the local restaurants kept in the grand parlor will help you narrow down your dining choices. We have a cabinet in the front hall full of brochures with information on local sights, businesses, and activities. After a few minutes of browsing, you'll realize there is a lot to keep you busy. If you have any questions, just ask an innkeeper. She or he will be happy to help you book a boat trip, plan a route to explore the local lighthouses, reserve a table for dinner, or answer any questions you may have.
A Little History
As with most 150-year-old homes, the Rockland Talbot House's history is fascinating. Built in the booming Victorian age, the mansion reflects the times with its twelve-foot ceilings, grand staircase, and intricate woodwork inside and out. First built for a ship captain, the home was then purchased by David Talbot in 1905. In 1926, Edward Hopper, the famous American artist, painted the house. The Talbot House, once a family home, spent most of its existence as a retirement home. For a total of 60 years, it housed the Home for Aged Women until it was renamed the Talbot House. Now in its next chapter, this grand home welcomes visitors from near and far.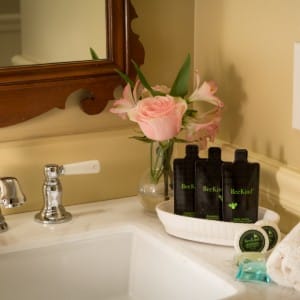 Amenities
After a full renovation, the Rockland Talbot House offers the perfect home-away-from-home. Unpack your bags, check out your whirlpool tub or big walk-in shower with multiple shower heads, and find the comfy robes in the closet. Your bed has three types of pillows: soft, medium, and firm. Have a Goldilocks moment and find the one that's "just right" for you.
Your Smart TV has all the cable channels you could want. After a hard day of sightseeing and devouring as much lobster as possible, you might be in the mood to Netflix and chill. With the Roku system, input your account info and password and you can binge to your heart's content. Just remember to take a break to grab a piece of homemade pie and a scoop of ice cream from the guest pantry before you start the next episode.
Even More Amenities
In addition to bathrobes and whirlpool tubs, your room has all the finishing touches like a scented candle, an iron and ironing board, complimentary Wi-Fi, BeeKind bath products, and fluffy bath towels. You'll also find bottled water, an ice bucket, and a bottle opener.
Victorian Meets Modern
Just because the house was built in Victorian times doesn't mean the décor has to be stuck in a time warp. That's why you'll find fun patterns and modern colors in the rooms. Comfy mattresses, in-room heat or air conditioning controls, a fireplace, and spots to sit and read encourage true rest and relaxation. You may be cutting back on some of that sightseeing so you can spend more time in your room.
Common Areas
Two porches, two dining rooms, a grand parlor, and a library all allow for you to spread out and enjoy the true grandeur of the Rockland Talbot House. It also creates a perfect venue for meetings and special events. In the past, we have hosted small weddings, corporate meetings, community gatherings, book launches, reunions, and retreats.
Safety and Security
Safety shouldn't be a worry when you're vacationing. But with more choices than ever when traveling, it's something that has to be considered when choosing where you'll stay. As veterans in the hospitality industry, we believe there are no reasons and no excuses for your chosen accommodations to not have the highest level of safety compliance. After renovating and operating two properties, we understand and adhere to all Life Safety codes.
When booking at the Rockland Talbot House you'll be reserving a beautifully appointed room in a licensed property that is inspected annually by the local code officer and the state health department. You can rest easy knowing there are carbon monoxide detectors, smoke alarms, lighted emergency exits, a sprinkler system, and ServSafe certified staff.
While the historic district and the entire city of Rockland have very little crime, for added safety and convenience, the Rockland Talbot House offers free off-street parking monitored by a security system.
We'll See You Soon!
Call us today or reserve your room right here on our website. You'll always get the best available rate when you book directly with us. We can't wait to welcome you to the Rockland Talbot House!!